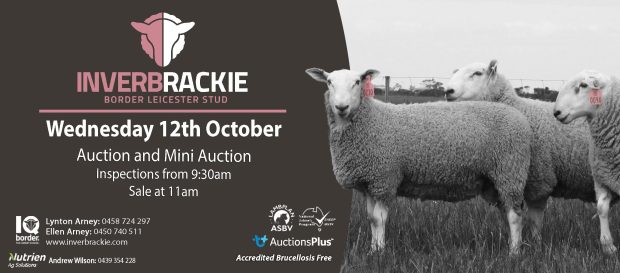 ON PROPERTY RAM SALE
We are being sought out by a growing number of commercial Border Leicester ram buyers from across Australia making our ram sale a national sale. IQborders are used in New South Wales , Victoria as well as our home state of South Australia
We have one of Australia's largest offerings of Border Leicester rams at our annual auction and if auctions are not your thing we can still cater for your ram requirements via our private selections after the sale. The sale is also on the Auctions Plus platform.
Inverbrackie hold an on property ram sale on the second Wednesday of October each year. The rams are offered by auction in two stages. The first of the rams will be offered singly in a selling ring and after a short break the remaining rams will be offered in pens outside. The entire pen is offered first on a per head basis before the pick of the pen is available. LAMBPLAN data shows the Inverbackie average continues to be around the top 10% of Border Leicesters.
Our sheep are not at shows or field days, so we encourage people interested in seeing our sheep to use the sale as an opportunity to view our style of rams that are renowned for their tremendous amount of shape and performance. Inspections are welcome throughout the year, please contact us to organise a time.
LAMBPLAN information for the rams on sale will be available two weeks prior to the sale. We upload an excel file to the website, to enable you to sort through the extensive information about the rams making it easier for you to make your selections. We can also mail a catalogue to you at your request.
Nutrien are sole agents for the sale with a rebate offered to Inverbrackie approved agents attending the sale and providing written notification before close of business the day before the auction.
Free delivery of rams in the last weeks of October is a service we offer to most places within South Australia and Western Victoria. There may be a charge for us to deliver to other locations. We place a high emphasis on maintaining our clean health status for the rams direct to their new home. Conditions apply, please contact us for details.